We've been doing this for pay since 2007.  We've been building websites since… well before that.  Each website or ad campaign we build is done so with your specific BRAND in mind.
Enterprise & Whitelabel Services Note: Bridge Road Marketing has an extensive portfolio of enterprise & white label work we've done for third parties.  Because of NDAs and/or white labeling agreements, we do not publish these works publicly. 
If you are interested in discussing some of our enterprise experience please contact us.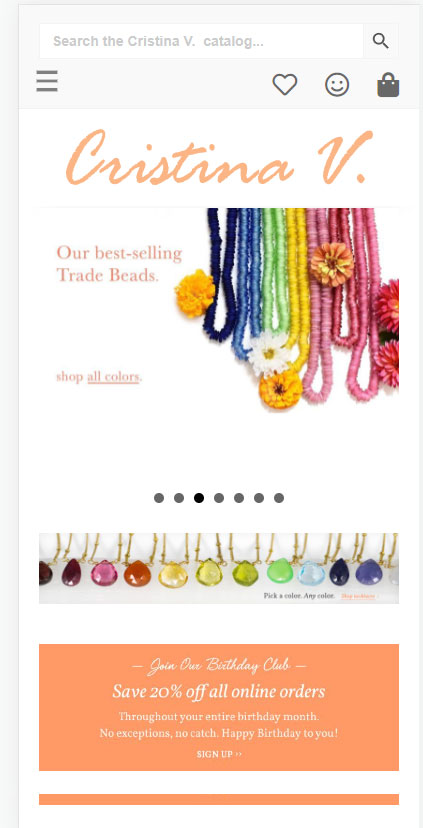 CristinaV.com
Cristinav.com is a lifestyle jewelry brand & client of over 10 years
Cristina's original site was Magento-based.  In order to save expense related to development, maintenance, and hosting the website was migrated to WooCommerce.
Cristinav.com is integrated with both Square and Quickbooks Accounting Online.  Cristina's website acts as the source of record.  Square allows Cristina to place orders at trade shows, trunk shows, and other events while maintaining live up-to-date inventory levels on the website. All sales are reconciled in Quickbooks from both the website and external POS systems. We also utilize Quickbooks for the generation of custom reports.
Shipping rules, complex promotions, various tax rules, and staff training have all been key to the success of CristinaV.com
Visit CristinaV.com
Next Section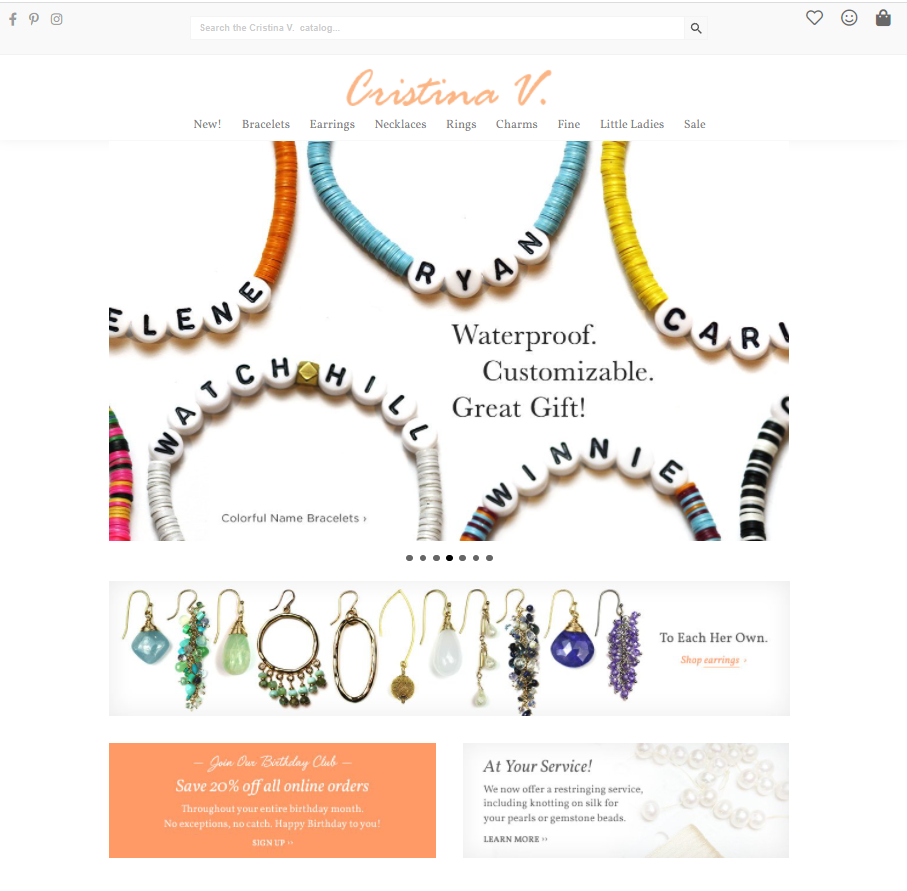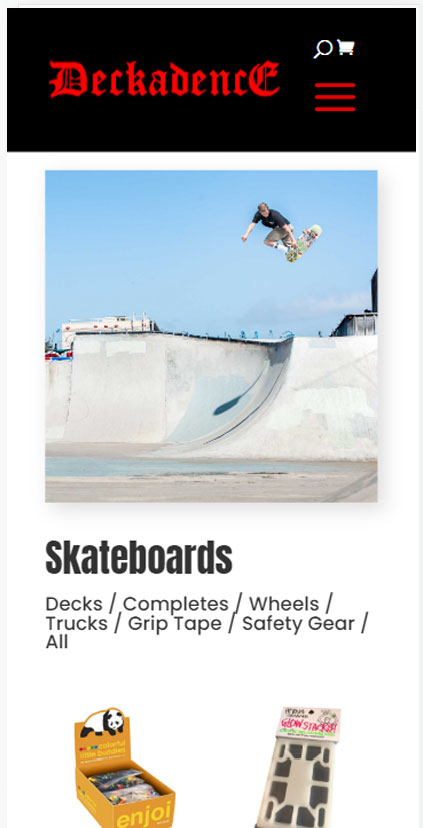 Deckadence Board Shoppe
Deckadence Board Shoppe is a pro rider owned skate board that needed help making the transition from Magento 1 EOL.
Deckadence, run by pro skater Darrin Black, hit a brick wall trying to find a partner to migrate from Magento 1 to Magento 2.  BRM was able to find a much lower cost solution seamlessly migrating their site to WooCommerce, maintaining all of their existing organic SEO through 301 redirects on existing URLs.
Deckadence has a die-hard local following, so a degree of local service was required on this eCommerce build, not present on other sites.  In addition we were able to build out a POS system directly tied to the website for inventory management.  Options such as local pickup, local events, and strong social media tie-ins have contributed to the success of Deckadence Skate Boards.
BRM manages multiple product feeds with a heavy search focus on Google Merchant Center and display ads.  Email marketing and promotions are a strong part of the marketing strategy, in addition to all of your standard eCommerce features such as specific shipping rules, api and feed configurations to multiple third parties, an in-house POS system tied with the site, and tax rules.
Visit Deckadence Board Shoppe
Next Section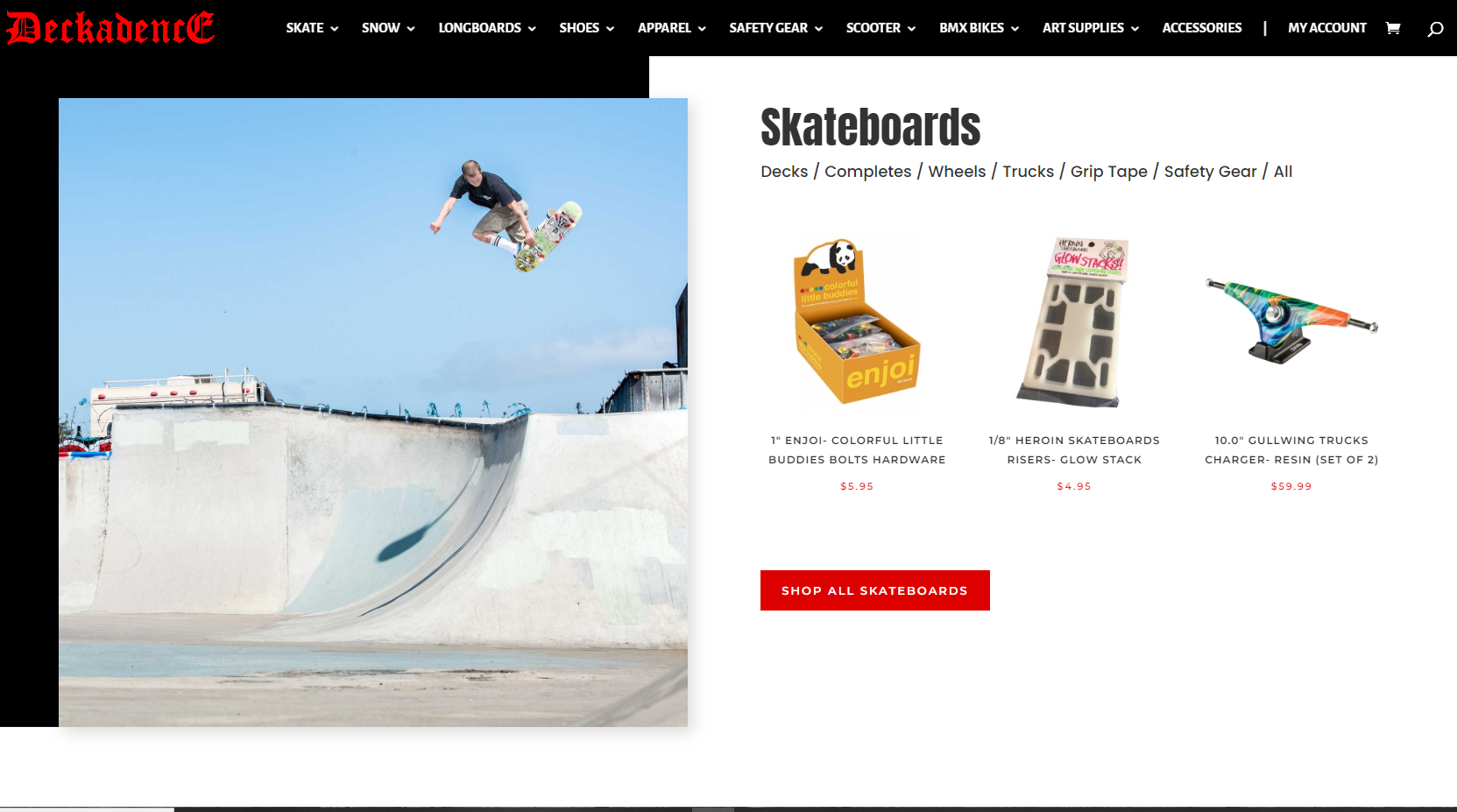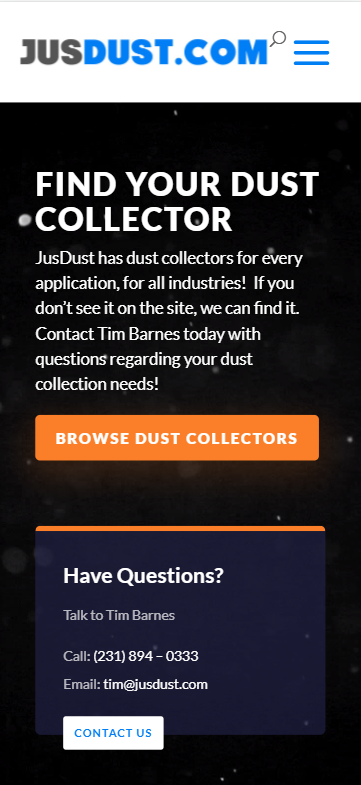 JusDust.com & JusFilters.com
JusDust.com was one of the first large scale Magento sites I ever built in around 2008-2009.
JusDust.com & JusFilters.com are sister sites built in a two store Magento configuration.  Magento is a method of developing two or more totally unique storefronts, websites, domains, with shared assets.  Assets may include products, categories, landing pages, callouts, and more.  Each store can have a shared or unique checkout.  This method lends itself to two unique product lines, one being used dust collectors and two Genuine Donaldson Torit Filters.  All of this is managed through a shared ACT database.
JusDust.com is an SEO optimized powerhouse that we spent a great deal of time in the 1-3 position on keyword "used dust collectors".  The success of this site was largely due to the high volume of information such as part numbers being used in titles, extensive libraries of product literature, and alternative part numbers.
As with all eCommerce sites, shipping rules, tax rules, discount methods, and various payment methods were considerations.  JusDust.com being a "quote only" format, just like your sites, involved converting the cart-based checkout process into a quotation system.
I also developed a Magento-based site for AMIndustrial machinery, a competitor of JusDust. However, I was compelled to part ways with them professionally with them when they requested SEO services, which I felt I could not provide due to a conflict of interest.
visit JusDust.com & JusFilters.com
Next Project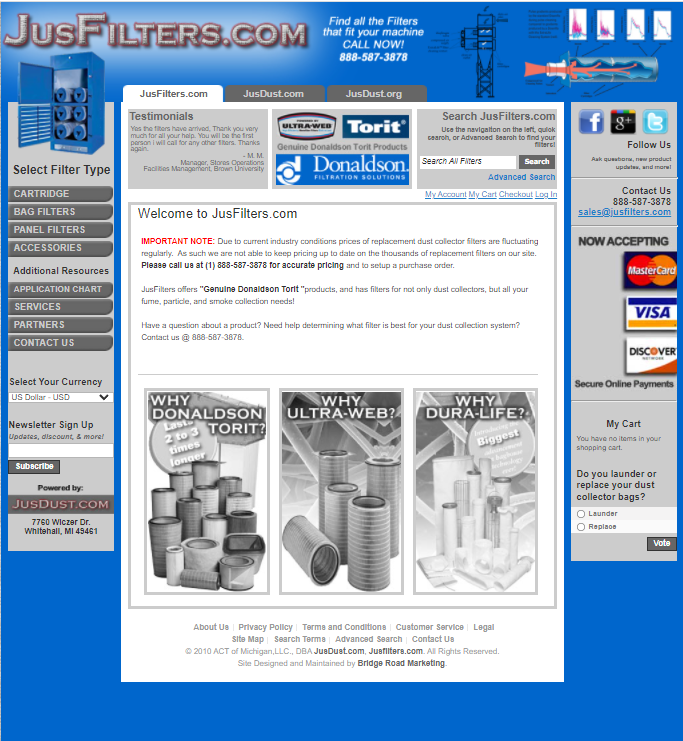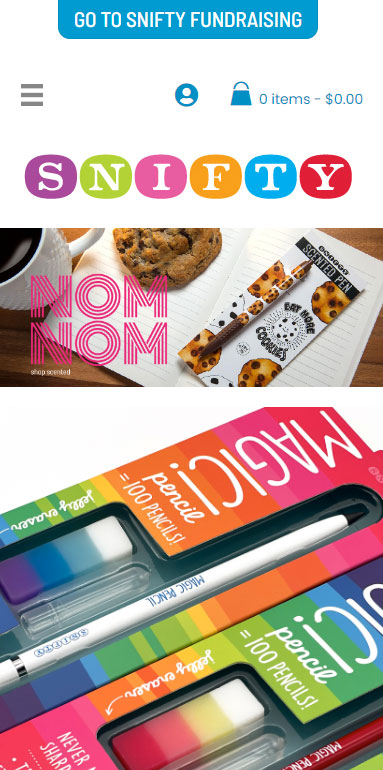 SNIFTY Pen
Sniftypen.com is a Magento build migrated to WooCommerce as opposed to a Magento 2 upgrade.
Snifty Scented Products site is unique in its pricing tiers, login format, and passing of customer data through multiple channels for marketing and remarketing.  Sniftypen.com is targeted toward schools and other fundraising groups and is primarily a wholesale shop, but does also sells retail.
Unique features include login-based pricing groups, wholesale order forms, seamless transitions between the wholesale and retail shopping experience, and sales on marketplaces such as Amazon.  Because they are the manufacturer, Snifty Pen is set up in the less common fashion such that the website is the source of record.
As with all eCommerce sites I've built and/or managed shipping through multiple carriers, various pricing tiers, and tax configuration are all central to their success.  Staff training has also made for a large degree of self-sufficiency for Sniftypen, so much so that I typically only perform routine maintenance, and all day-to-day operations are handled by their internal teams.
Visit sniftypen.com
Next Project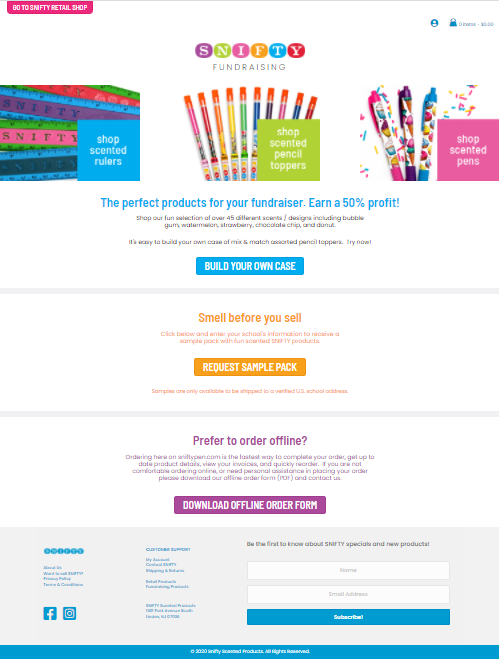 CrystalVaults.com
Though somewhat abstract in subject matter and content, CrystalVaults.com is by far my highest traffic Magento site with over 10,000 unique visitors per day!
Crystal Vaults and Hank Mason were referred to me through a colleague at Bronto, Oracle's Email Marketing product at a trade show.  Some other vendors were reluctant to take on the job due to the nature of their content.  After an exploratory call and kicking the wheels of their website I decided to take the job.  The amount of traffic this site gets is INCREDIBLE!  We've grown a mailing list to over 300,000+
Their product catalog consists of over 40,000 SKUs.  Variable products, bundles, virtual products, downloadable products, and a vast user marketplace with two sister sites round out the ecosystem.  crystalinnercircle.com is a membership-only site and crystalguild.org is a certification and test-taking site which includes automated processes to issue PDF certificates upon successful completion of course materials and tests.
Other features include complex shipping cases through multiple providers, a source of record managing sales on Amazon, Ebay, Etsy, Walmart, Google, and more, social site login, multiple user roles offering various pricing tiers, custom shipping offerings, local pickup by zip code, and "make an offer" product pricing.  The list goes on....
visit CrystalVaults.com
Next Project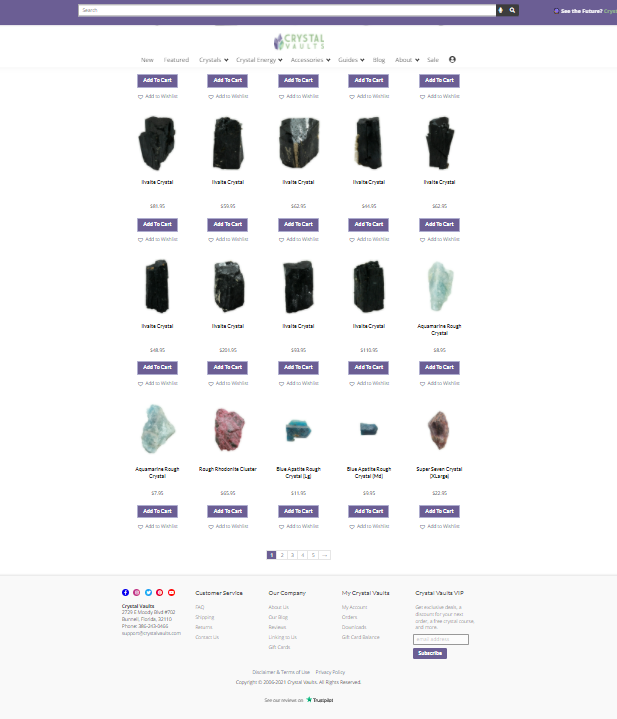 Where's The Rest?
We have of course built hundreds more sites, integrated dozens more properties, and ran thousands and of email marketing & PPC campaigns.  This is a short example of some of our active clients who have agreed to be contacted as professional references.   Get in touch to learn more about us.